NEWS

JANUARY 2018 -
BULLET HAVE A NEW DRUMMER!

I'm pleased to announce that I am now the official drummer of Bullet for my Valentine! I've been writing with the band for most of 2017 and finished tracking my drums for the new album Christmas last year. I'm totally stoked with the results and can't wait for the world to hear it in the spring this year. Mean while, I'm just off to the airport to start an American tour supporting Avenged Sevenfold!

SEPTEMBER 2017 -
More action with BULLET

Another annual post here! After a long 13 months touring with BFMV I've been writing and recording all year in preparation for the new album due out next year. All I can say is that it's been a blast so far and I am really excited for the fans to hear what we've been doing. Aside from this, We've managed to squeeze in summer touring playing Amnesia fest in Canada, Reload fest in Germany alongside some of our own Russian shows, and we look forward to playing Knotfest at the end of October to bring touring in 2017 to a close!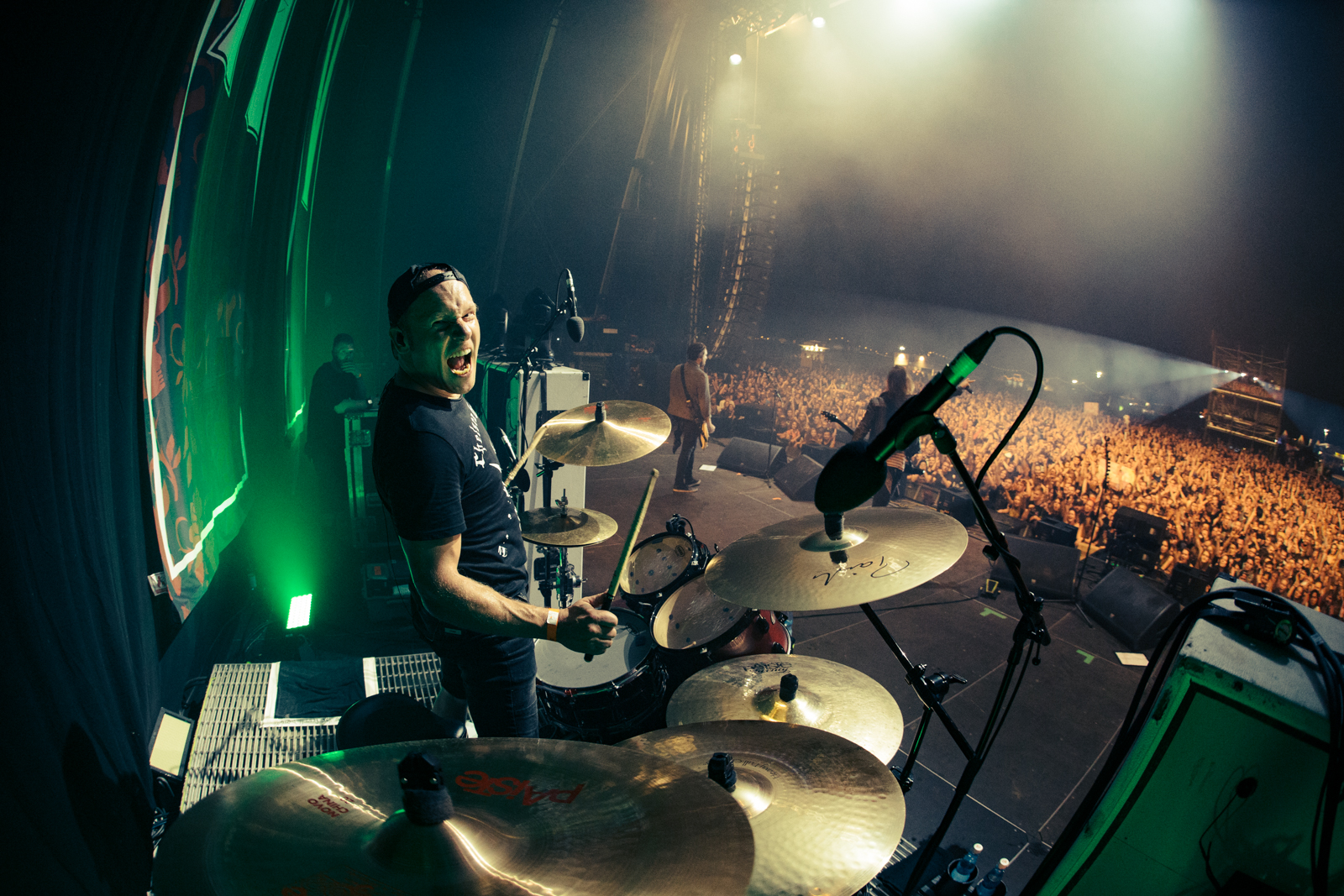 SEPTEMBER 2016 -
BULLET FOR MY VALENTINE

Since my last post (lOctober 2015!) I have been solidly on tour with Bullet For My Valentine all over the world! We have hit America, most of Europe, South America, Japan three times! We've also played and headlined most of the worlds big festival this summer - Wacken, Carolina Rock Rebellion etc., and at present the band has a few weeks downtime. Check out the pics below . . .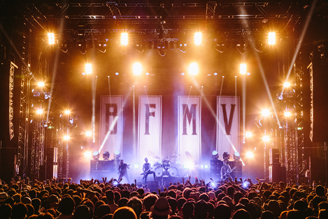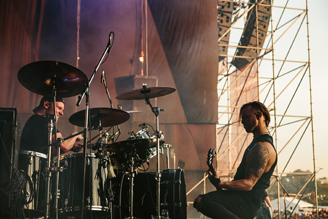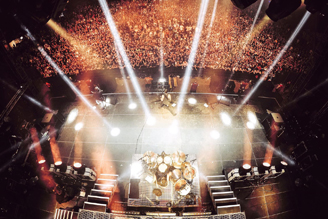 JANUARY 2016 -
BOWLD IN BUDAPEST/ CJ WILDHEART

Last October I had the pleasure of experiencing one of my songs being performed and recorded by the Budapest Philharmonic orchestra. The song, entitled 'Ascension' will be used by SKY TV for their production music which covers anything from music for dramas, sports channels or trailers. Watch this space for a documentary in the coming months on the whole experience.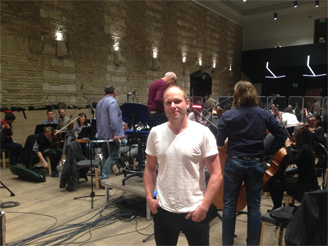 Towards the end of 2015 I also recorded an album for CJ Wildheart entitled 'The Robot' which features some very heavy, punky tunes.
Check out the link here for more info

SUMMER 2015 -
KILLING JOKE / SARDINIA / SESSIONS!

It's been a busy summer note the lack of updating!!
So I had a stint with Killing Joke in May & June playing numerous European festivals - Hellfest being most notable. It's the best festival I've ever played - 150,000 people can't be wrong and also rubbing shoulders with Faith no more was even better!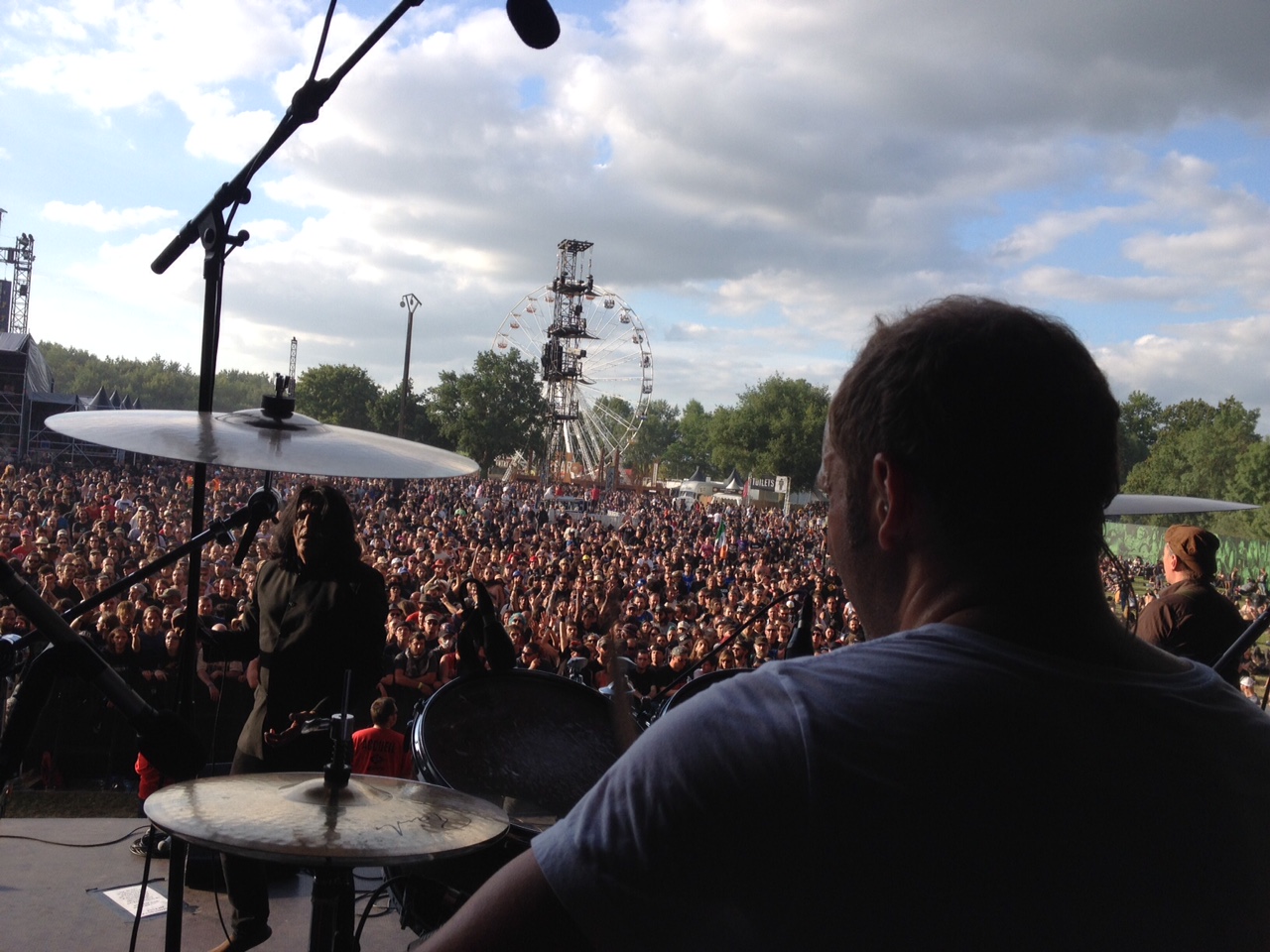 Also with Killing Joke, I played the Metal Hammer awards which is currently being televised on Scuzz.
You can watch the full Hellfest set HERE!

JULY - SARDINIA DRUM CLINICS

I performed three drum clinics/ masterclasses for Bateras Beat in Sardinia this month. It's my second time there and the enthusiasm of the drummers out there was great (as you can see!). Rapheal is a great host and runs an amazing drum school on the island too which has seen the likes of Thomas Lang and Dave Lombardo perform clinics there too.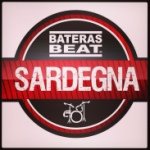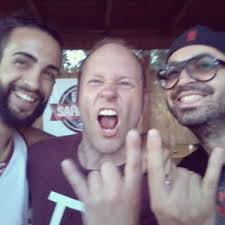 JAN2015 -
NEW PROJECT WITH ET9 AND CARS ON FIRE MEMBERS - UNEARTH THE KINGS

'Unearth the Kings' has arrived! Basically the results of me plus Owen Packard from Earthtone 9 and Ali Ross - vocalist from Cars on Fire. Our new E.P. is now out there on bandcamp and it's one of the most heaviest projects I've been involved in. Entitled 'And yet it moves' You'll hear the vibe is happily 'bullshit-free' and to the point!
Click the cover to listen!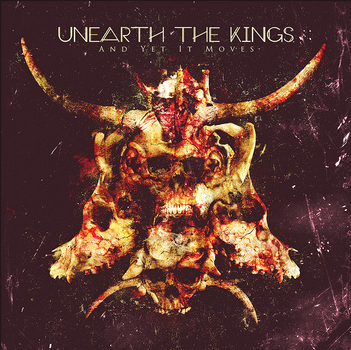 WINTER 2015 - MADE OF METAL RELEASED!

Finally, after months of hardwork for Toontrack, Made of Metal has been released to critical acclaim. Myself, Colin Richardson and Carl Bown, set about creating one of the best ever drum sampling libraries back in April 2014 at Galaxy studios in Belgium and this is the result!
Click the image to watch the 'making of' video.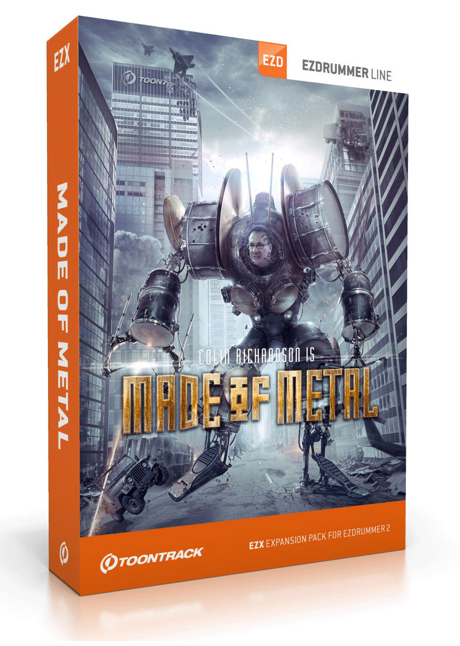 SUMMER 2014 - OZ TOUR & HALO

I've just returned from a successful tour of Australia and New Zealand with Pop Will Eat Itself. It had been 20 years since the original lineup had been there and the fans greeted the new lineup warmly! As well as some incredible sightseeing and swimming with sharks (unknowingly!) I checked out a new Oz band called Sub Atari Knives which are well worth listening to.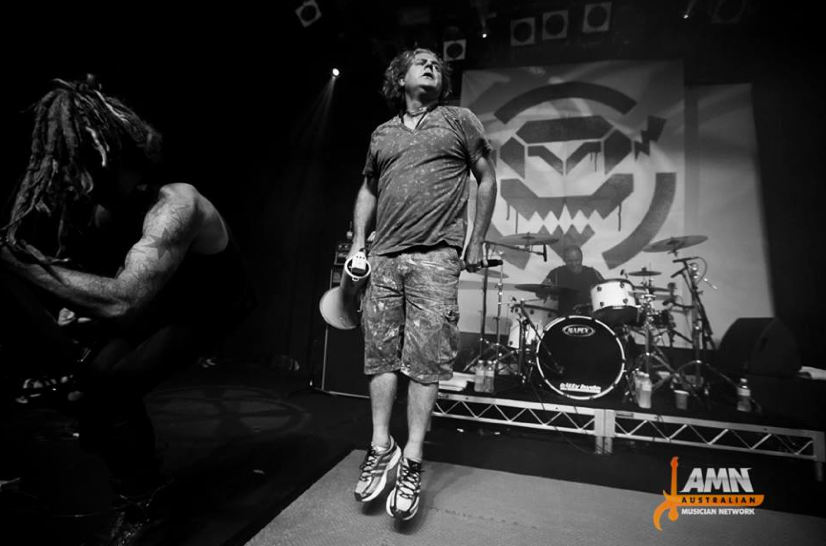 REMOTE DRUM SESSIONS

I am also pleased to announce my involvement in recording drums for various Halo games - 'Spartan Assualt' and 'Halo - The Master Chief' - You can check out excerpts from some of the drums I recorded for these games from my NEW revamped Remote Drum Sessions page. There's a soundcloud player with a lot of different projects I've been involved with over the last ten years too so you'll hear a lot of variety!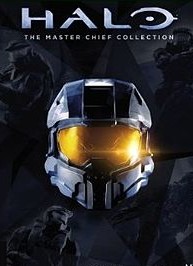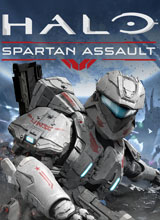 SPRING 2014 - NEW POP WILL EAT ITSELF ALBUM & TOUR

During May & June I've been recording drums for the new Pop Will eat itself album and it's shaping up to be a cracker! I can safely say that some of my grooviest drumming is featured in various styles - drum and bass, hip-hop, break-beat and of course the Rock/ Metal influence. Graham Crabb's lyrics are the best I've ever heard and hopefully it will please the existing fans as well as attract some new ones! We have als just finished a short tour around the U.K. and are playing the Main stage at the Camp Bestival on August 2nd. Meanwhile, you can buy the new E.P. 'Watch it Blow' from Pledge Music.




31/03/14 - DRUM CLINICS

I've busy performing drum clinics this month in Guernsey, Cornwall and Lincoln. I was really pleased with the attendance and demonstrated a load of different material from Axewound songs to different drumming techniques and concepts including drum and bass, linear patterns soloing and showing off!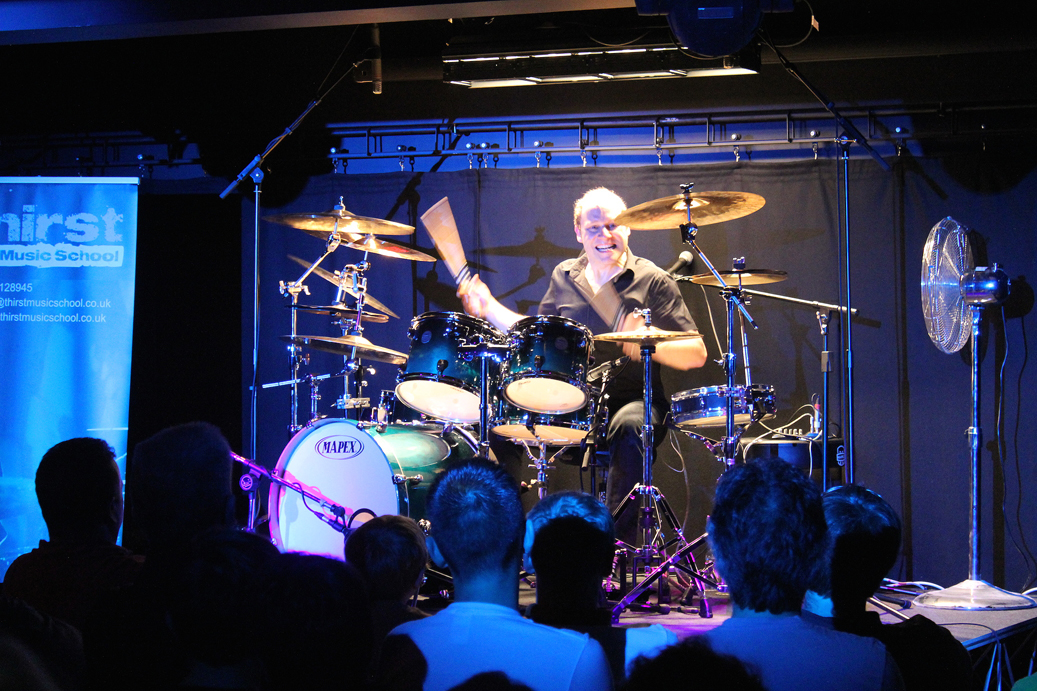 31/12/13 - WEMBLEY WITH BAILEY

I performed with Bill Bailey at Wembley Arena on 29/11 playing Cajun Country! Joined by a traditional Cajun accordion player and fiddler, we performed renditions of songs such as Killing in the name of, Teen spirit, Firestarter, Bet you look good on the dancefloor and Bill's bible song . . . all with a country twist!!
The last time I performed with Bill was at Sonisphere in 2011 where we headlined the second stage to 65,000 people! An album was recorded shortly after entitled 'In Metal'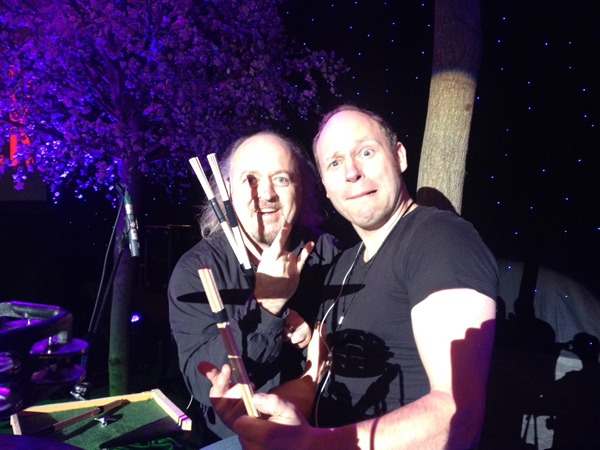 31/11/13 - CLASSICAL METAL WITH SNEAP

Legendary Metal producer Andy Sneap kept me busy recording drums for a Classical Metal album in November for Skid Row/ Accept guitarist Wolf Hoffman. Featuring classics by composers such as Vivaldi and Mozart the album promises touring on a huge scale when it is finished, accommodating a full orchestra!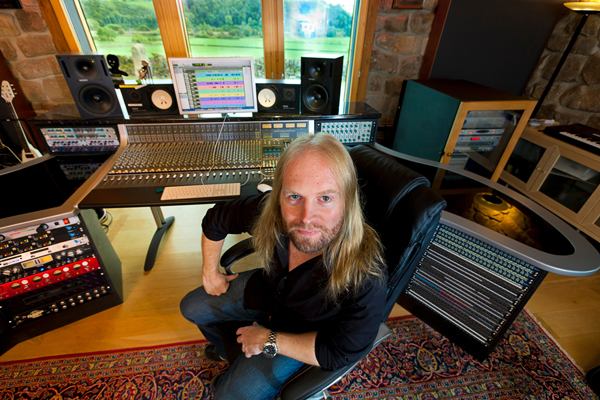 15/10/13 - SYNC METAL ALBUM

I've just finished writing, recording and mixing a metal album featuring Colin Doran from Hundred Reasons on vox. The album also featured Paul Fletcher (formerly of This is Menace) playing various guitar parts and has been accepted by International sync company Audio Network. There are ten tracks of varying degrees of heaviness and you can check it out here. Expect to hear it on Masterchef very soon!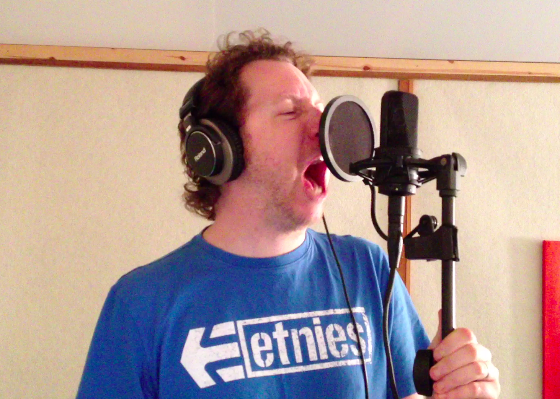 Above: Colin Doran in action.

ROLAND DEMO

Electronic drum company Roland have me featured in a video demonstrating some of their new trigger technology. I performed one of my own tracks and am really excited about the new BT-1 trigger bars - so much so that they will be featuring in my Axewound drum setup when we hit the road next!
You can check out the promo video here



EMERGENCY SESSION!

With two days to spare, Funeral for a friend producer Romesh Dodangoda called me to record drums for an album at Monnow Valley studios in Wales. A certain Up-and-coming band had a drummer with a sore hand! This meant learning ten songs of technical Metal/ Rock in two days and nailing it in the studio to the drummers style! The drums were recorded in just under three days and the results were very pleasing despite the chaos!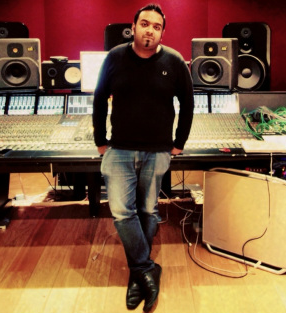 Above: Producer Romesh Dodangoda

09/08/13 - Yes, you are seeing correctly - this a news update! Over the past 8 months I've been busy touring the world with Killing Joke and writing albums for various sync companies - here's a roundup!

KILLING JOKE TOUR

April, May & June had me touring America, Canada, Australia and New Zealand with these legends which is one of the most intense bands I have played with. The most different aspect of playing with Killing Joke than other bands, is the demanding onstage communication that is needed to make the band 'sound as one'. This is of course basic stuff that every musician should know, but it's surprising how many musicians don't look at each other onstage and are too focused on themselves rather than 'the band'. I've been playing with Killing Joke on and off since 2011, filling in for Big Paul the original drummer. Here's some snaps from the tour.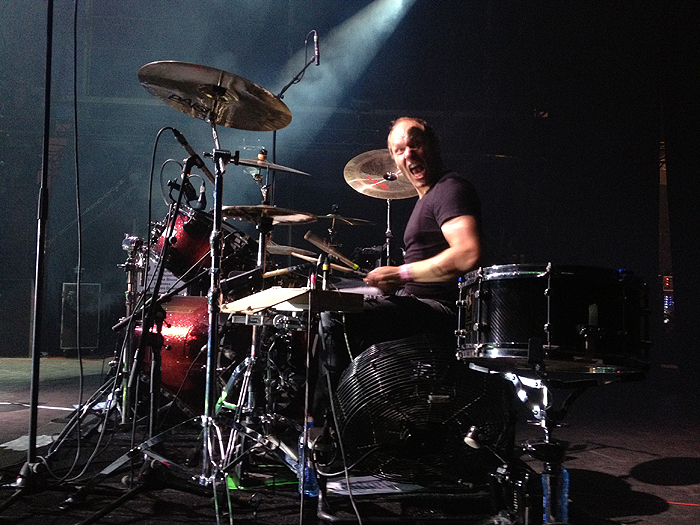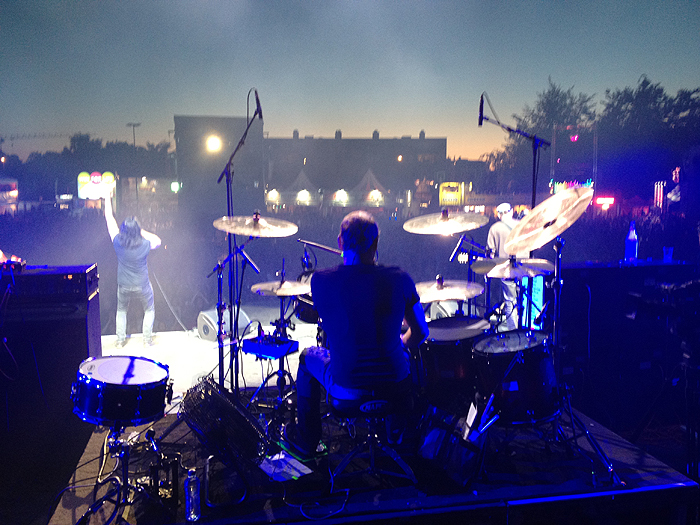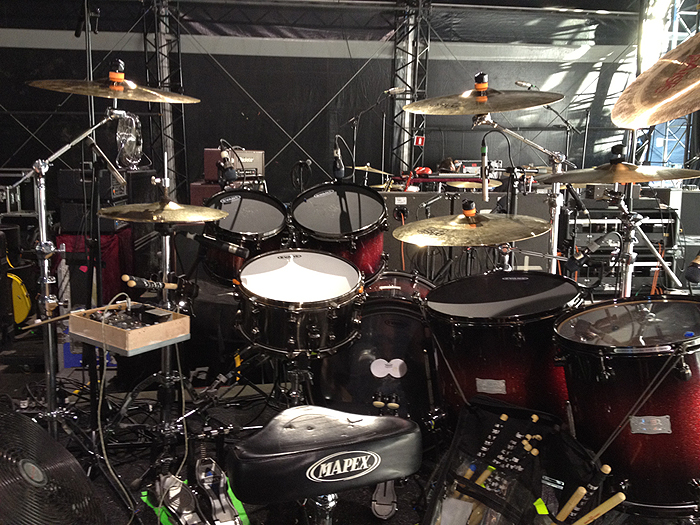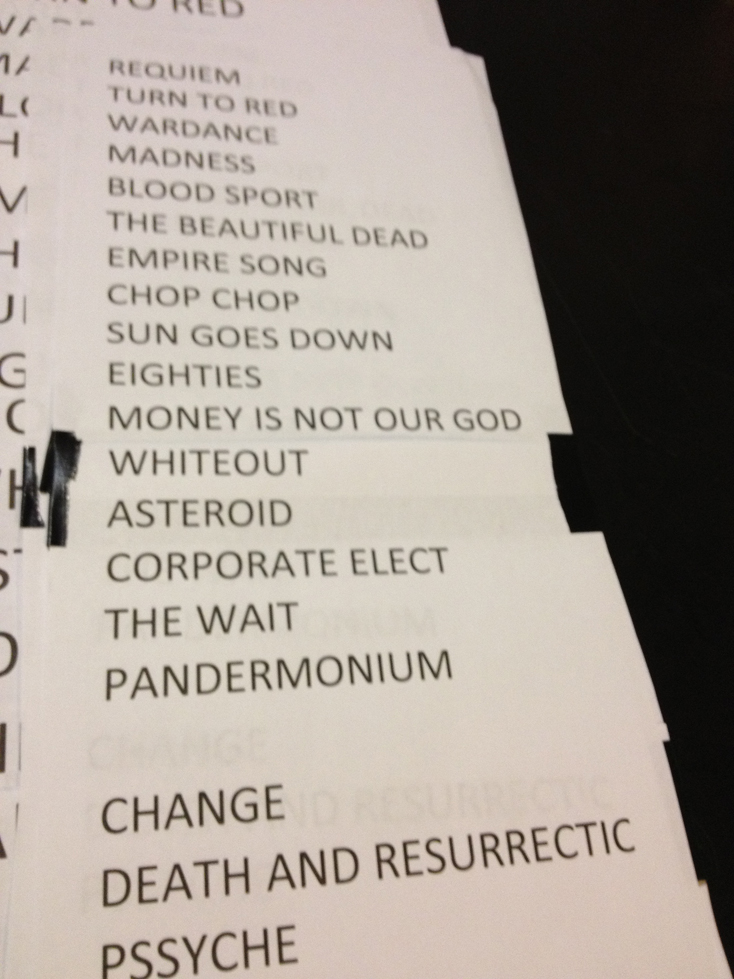 GAME DRUMS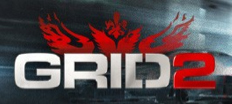 I recorded drums for Codemasters Grid 2.
You can download the soundtrack for free here
The live drums were augmented with with fat samples
with the real cymbal work retained resulting in a hybrid electro/ human feel.

SYNC TUNES

I have added a soundcloud player so you can check out some of my production music.

14/11/12 - It's been hectic few months - here's an update on what I've been up to. There is an awesome new product out there in which you can use Rock drum loops and hits recorded by me in your music. Heavy Rock drops was recorded at Garden Studios in London through a vintage Neve 8026 console and onto a 16 track 2" Studer A80 tape machine with a selection of great vintage microphones from Coles, Neumann, AKG and many more. Check it out here! for more info.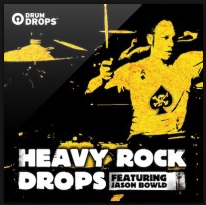 In October I completed a sell-out tour with Axewound. The press was hot with front covers of Kerrang and a chart position of 18 reached in the official U.K. album charts for the debut album 'Vultures' - yes that's right the official charts!! There was also an interview with moi in October's isue of Rhythm magazine and I recently performed at the Baguetterie Festival in Paris with Thomas Lang, George Kollias and Keith Carlock to name a few. Check out the pictures below where you'll also find the interview.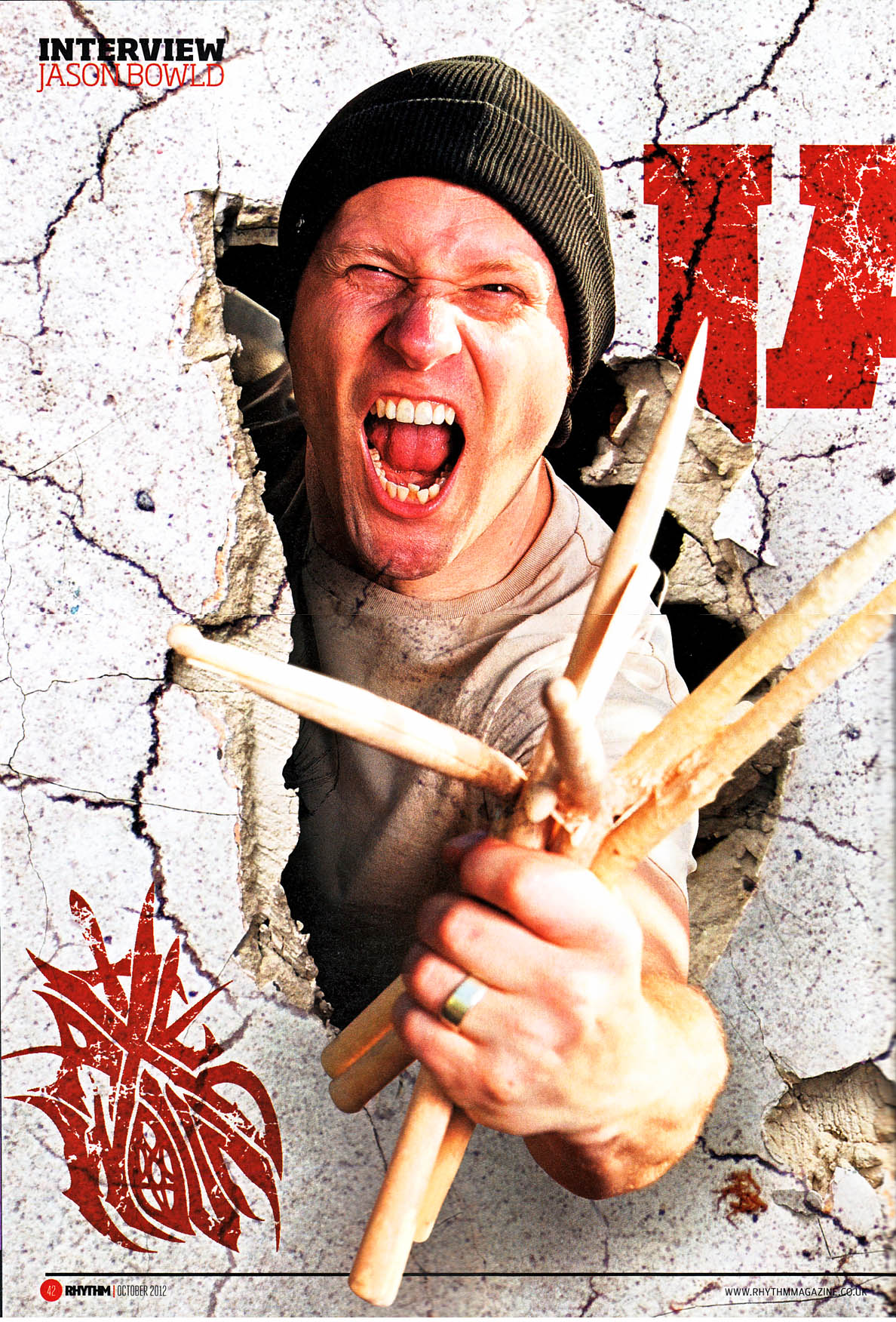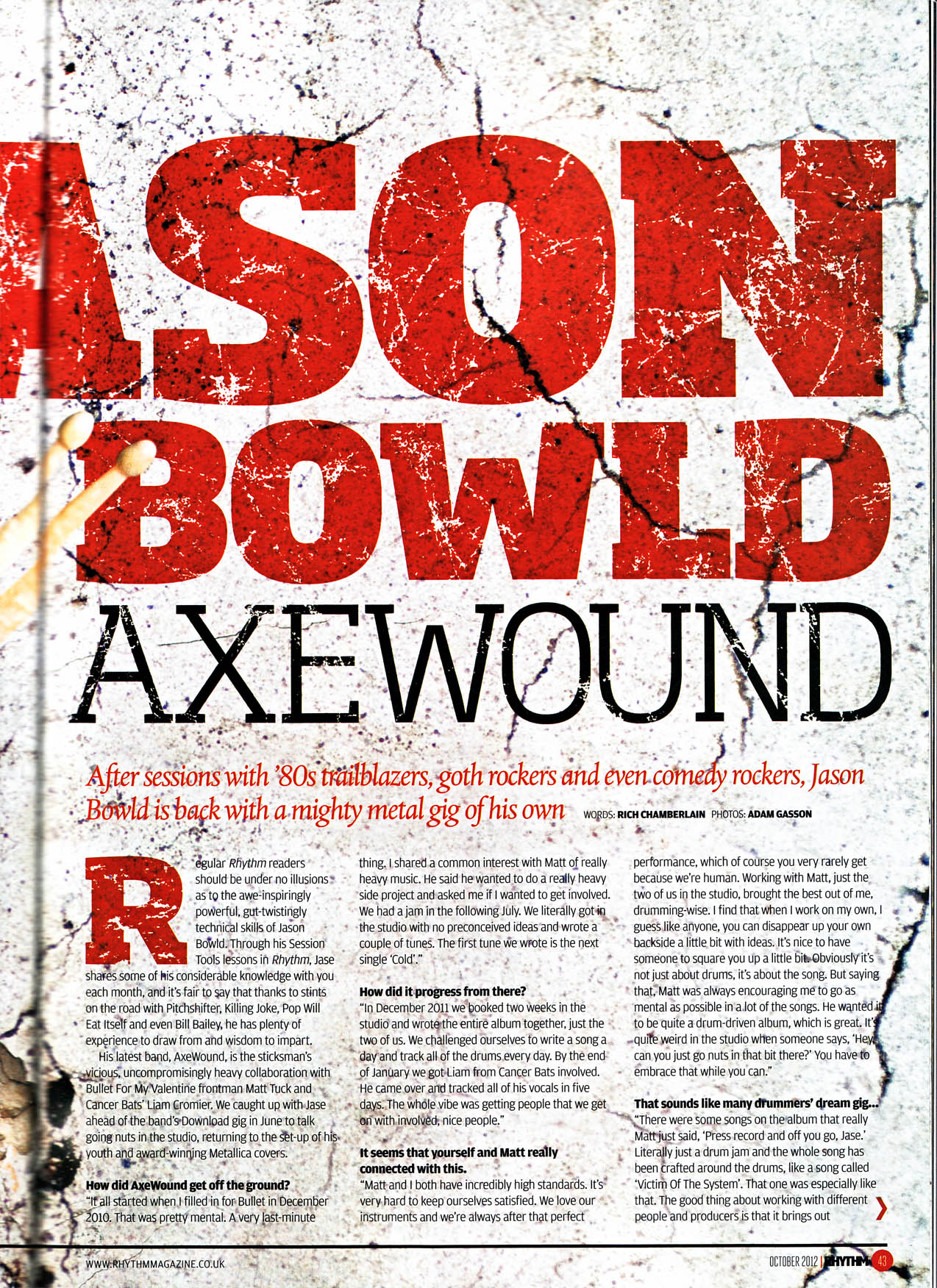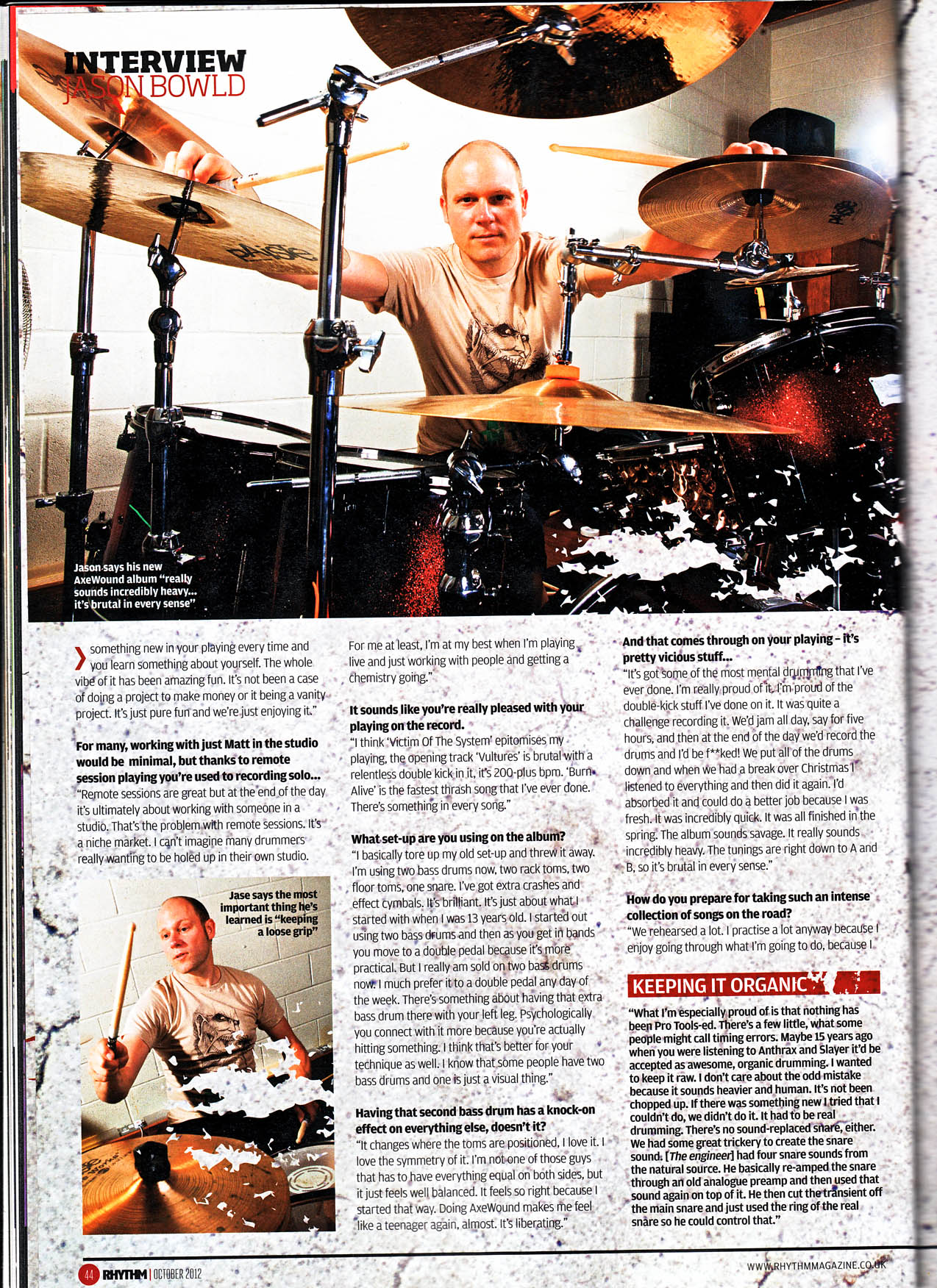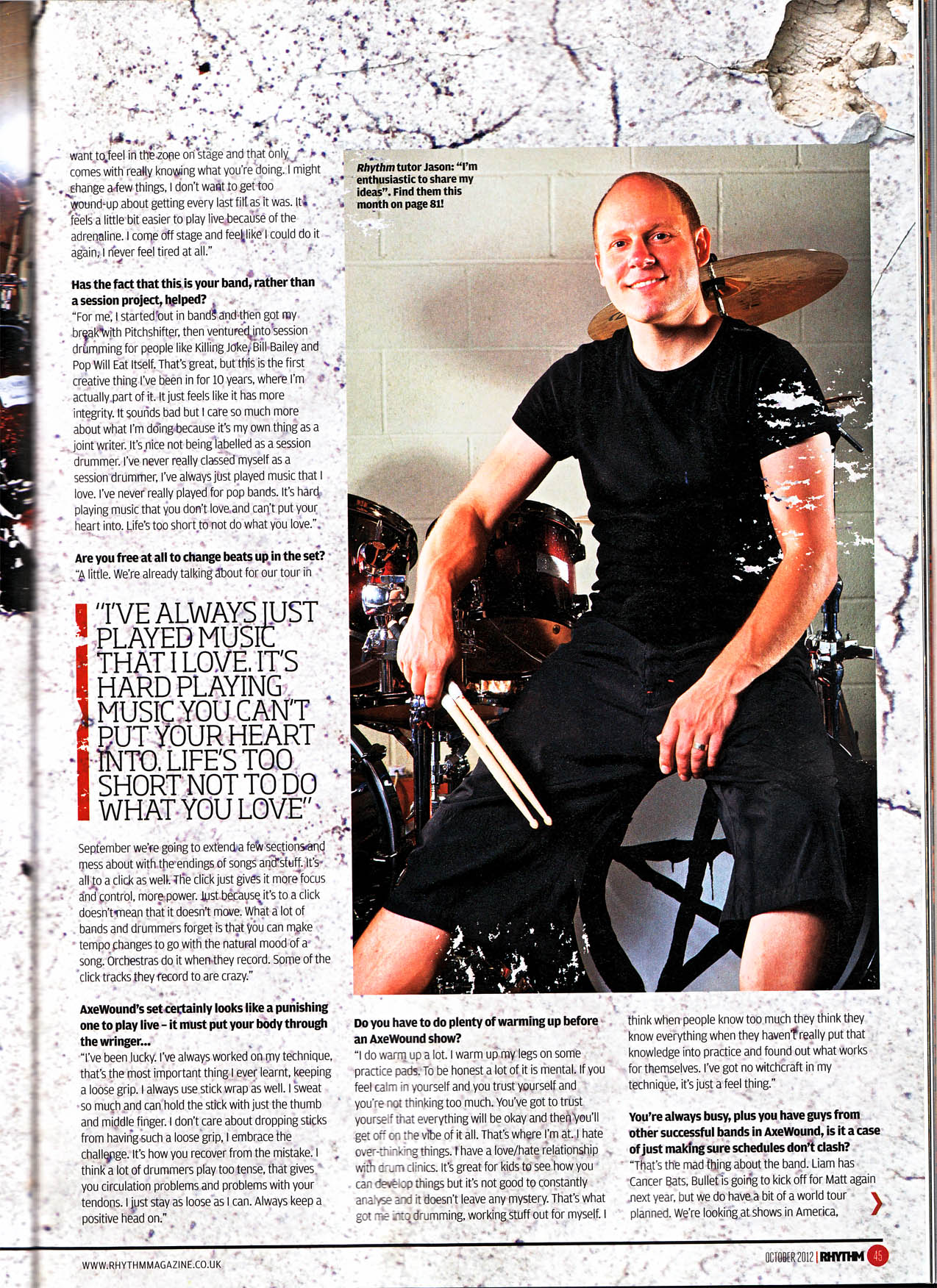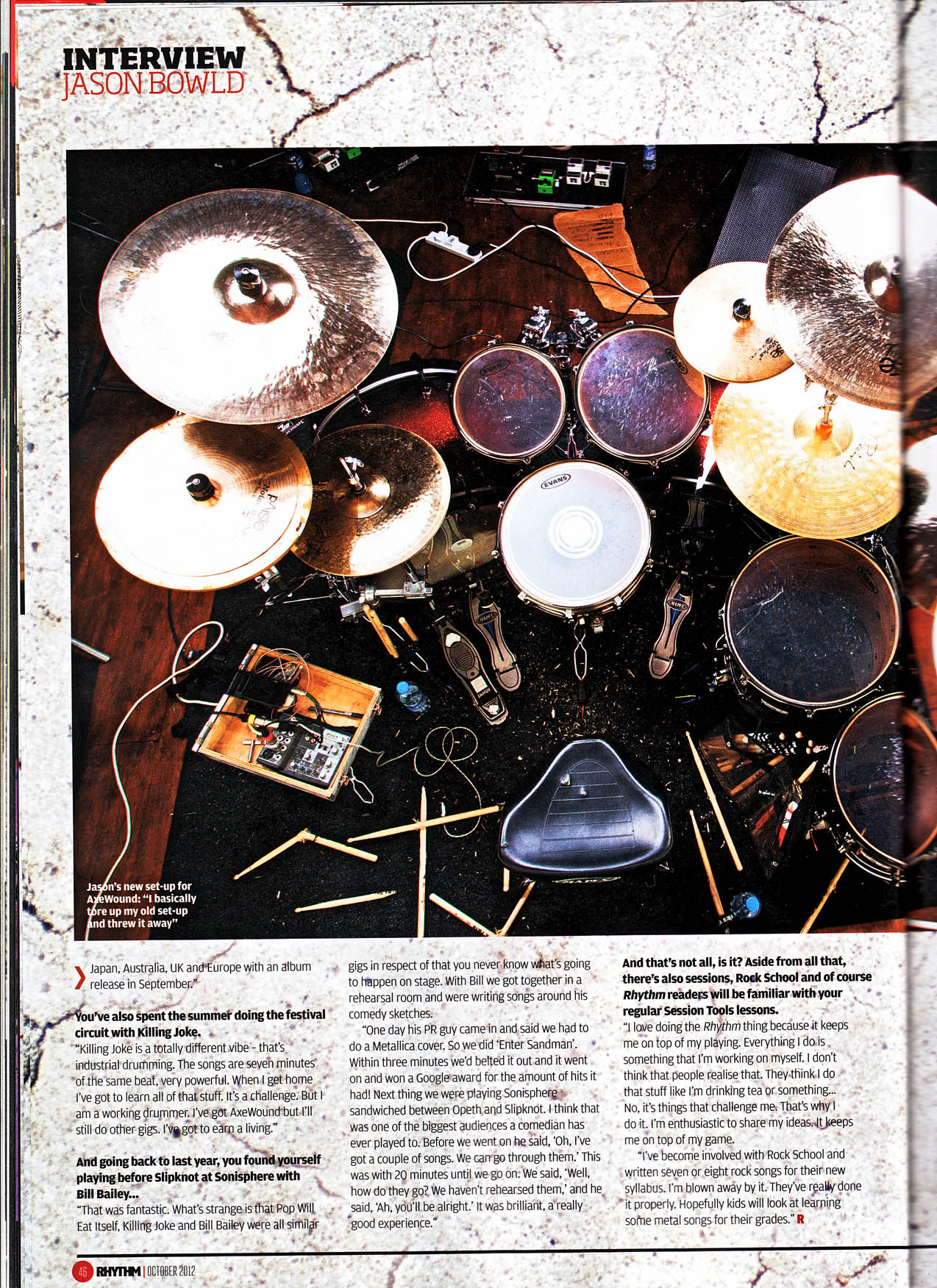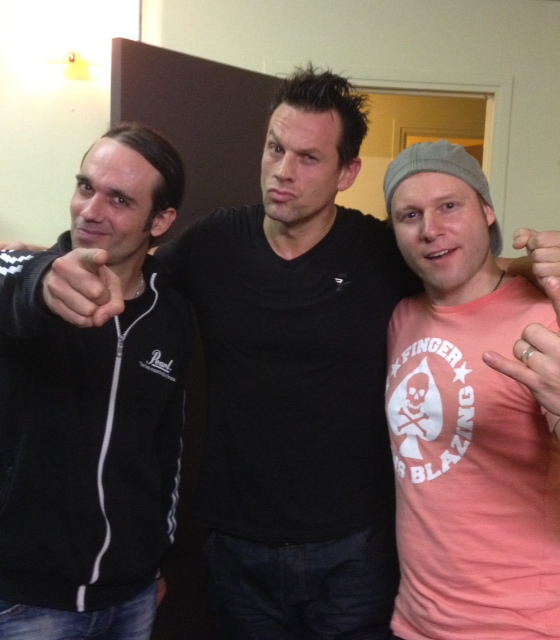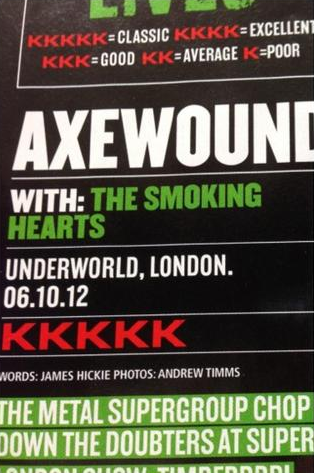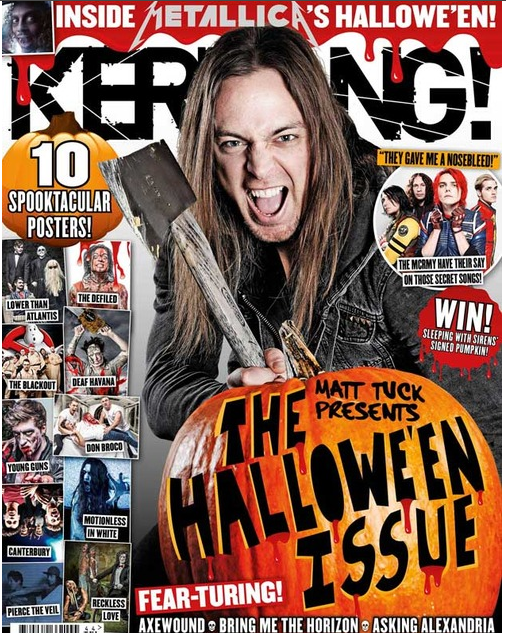 10/08/12 - After a busy summer of festivals with Axewound and Killing Joke, I'm pleased to announce the release date of 'Vultures' the debut album from Axewound on the 1st of October. There will be a U.K. tour and some American/ Canadian shows too as below. Here's some snaps!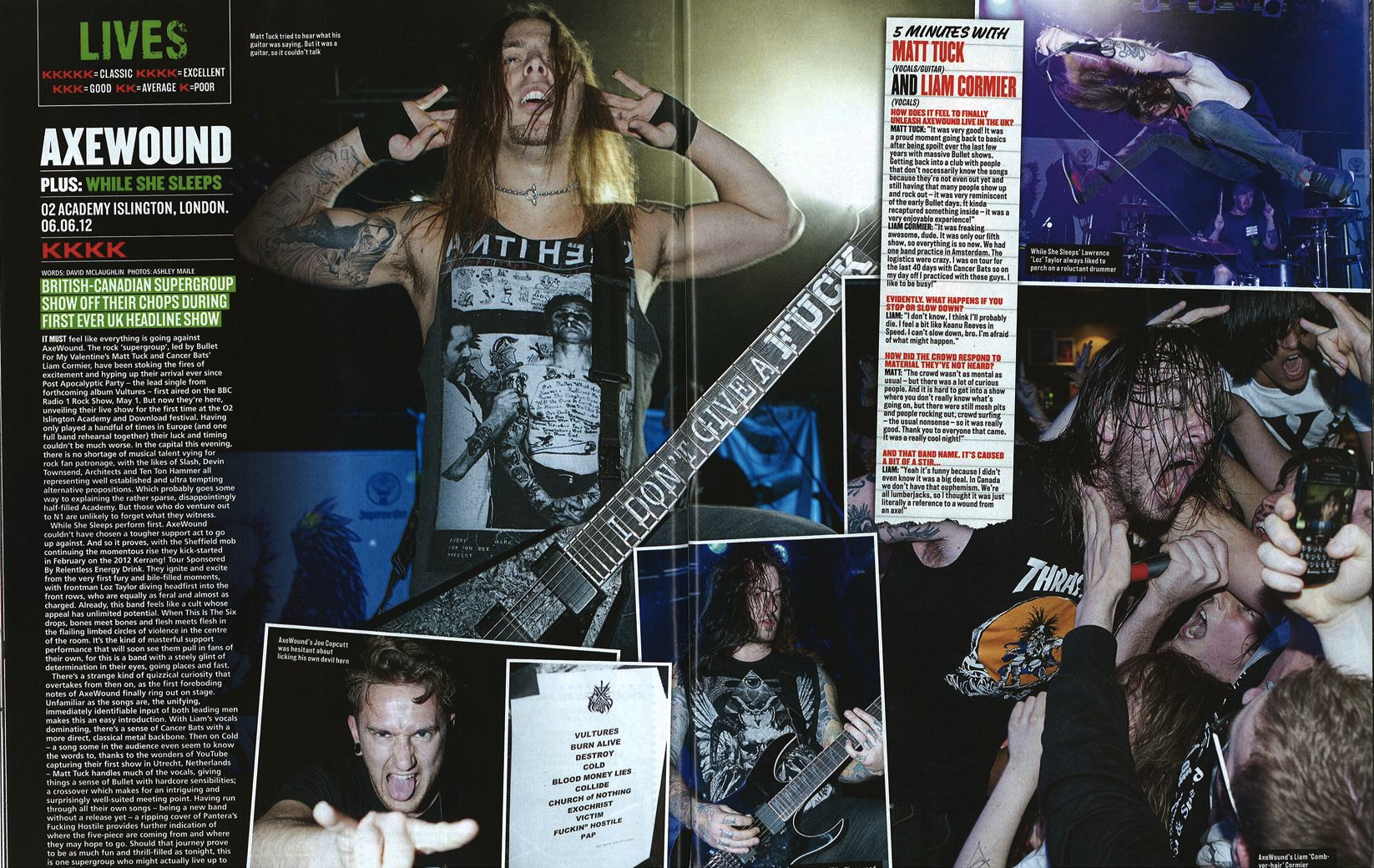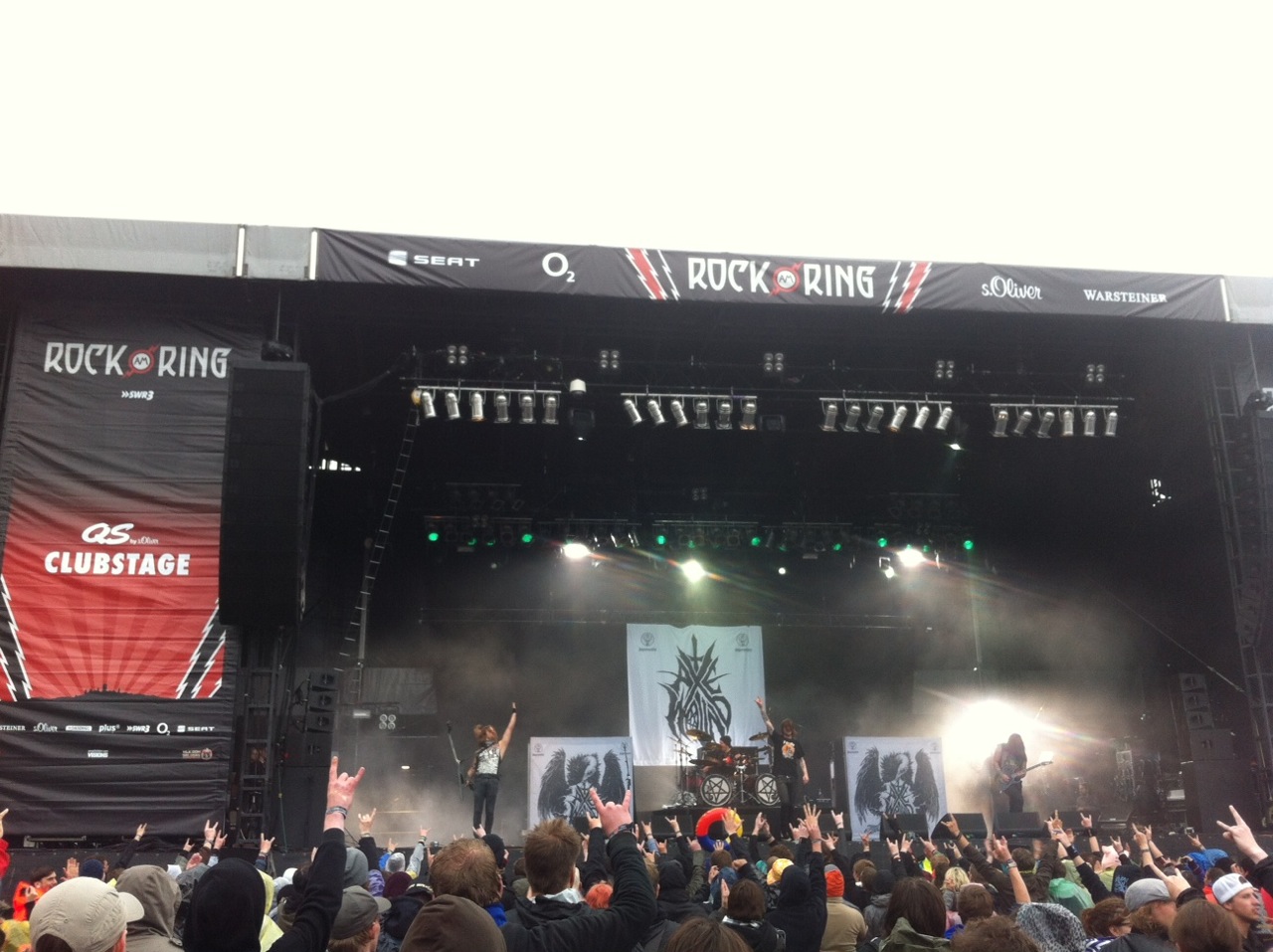 Oct 1st - The Rescue Rooms, Nottingham
Oct 2nd - King Tut's, Glasgow
Oct 3rd - Academy 3, Manchester
Oct 4th - Slade Rooms, Wolverhampton
Oct 6th - The Underworld, London
Oct 7th - Thekla, Bristol
Nov 27th - Soundstage, Baltimore
Nov 28th - The Studio, New York
Nov 29th - Katacombes, Montreal
Nov 30th - Annex wreck room, Toronto
Dec 1st - Reggie's Rock club, Chicago
Dec 3rd - Bottom of the hill, San Francisco
Dec 4th - Chain Reaction, Anaheim

05/05/12 - I'm really excited to announce my new band AxeWound. The band features Matt Tuck (Bullet for my Valentine), Liam Cormier (Cancer Bats), Mikee Kingswood (Glamour of the Kill), and Joe Copcutt (Rise to Remain). Radio 1 debuted the bands first single - 'Post Apocalyptic Party' and you can get a free download of the single here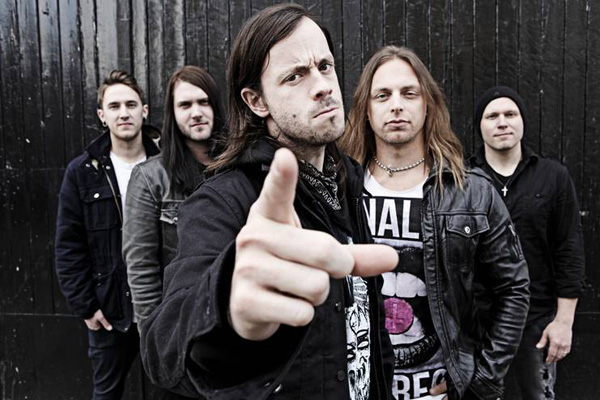 AxeWound play the following shows in May and June:-

May 31 – Tivoli, Holland (special guest to KILLSWITCH ENGAGE)
Jun. 02 – Rock Im Park, Germany
Jun. 03 – Rock Am Ring, Germany
Jun. 04 – Substage, Germany (special guest to KILLSWITCH ENGAGE)
Jun. 06 – O2 Islington Academy, UK
Jun. 08 – Download Festival, UK
Jun. 10 – Nova Rock, Austria
Jun. 22 – Gods Of Metal, Italy
Jun. 23 – Ear Shaker Days, Switzerland
Jun. 24 – Grasspop Metal Meeting, Belgium

AxeWound's debut album will be released in the summer.

28/04/12 - After a successful tour with Pop will eat itself in March (and some plays on Top Gear!) My attention is now on visiting Hong Kong to promote the music I have written for the new Rockschool syllabus. On my return I have summer festivals booked with my new band which I am very excited about - this will be announced on the Radio 1 Rock show on Monday 30th of April followed by a Kerrang! cover on Wednesday - more details to come!

15/03/12 - I am now a proud endorsee of Evans drum-heads. After being swayed by several different producers over the past few months I made the switch - the tone, clarity and attack is the most well-balanced I've heard in a drum head. Check 'em out.




10/02/12 - There is now a Store on the site and I'm excited to announce that there Playalong packages available, plus albums, dvds and FREE lessons!
go check 'em out!

19/01/12 - I have just recorded and written some of the best drum parts ever for a top secret new project over the past few weeks! There are some big names involved in this and I just can't wait to tell everyone about it - all will be revealed soon!!

12/01/12 - Just got back from Cagliari in Sardinia where I performed a masterclass and drum clinic for the Raphael Saini school of drums. Absolutely brilliant place and brilliant people. I was very well looked after and I can't wait to go back - though I think I will take a direct flight next time rather than the three I took to get there from Birmingham!

19/12/11 - Another late update! Completed a great Pop will eat itself tour in the U.K. in October. Against all odds, non-believers were disproved and dispatched of with a sell out tour.
I also had the pleasure of writing eight Metal as Fuck tracks for the new Rockschool syllabus (which is released mid 2012) - really proud of them - not just mine - all tracks in the new manuals sound very proffessional, especially as it was all recorded and produced in Guildford in Geneisis's recording studio.
In November I recorded for the Norwegian sensation 'Commander in Chief' - great operatic vocals over shredding metal!!! It was also a great experience recording with producer Sterling Winfield who has produced and engineered Pantera, Hatebreed and Hell Yeah! It never ceases to amaze how much there is still to learn about myself and recording - long may it contiune. Great studio too called Chairworks up in Yorkshire.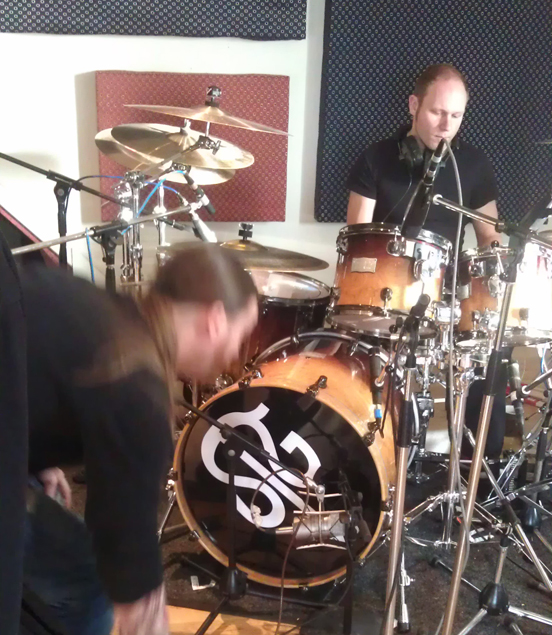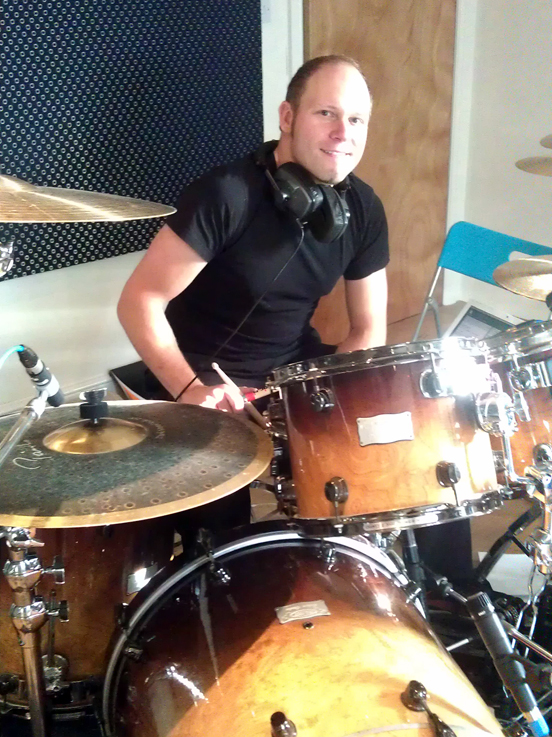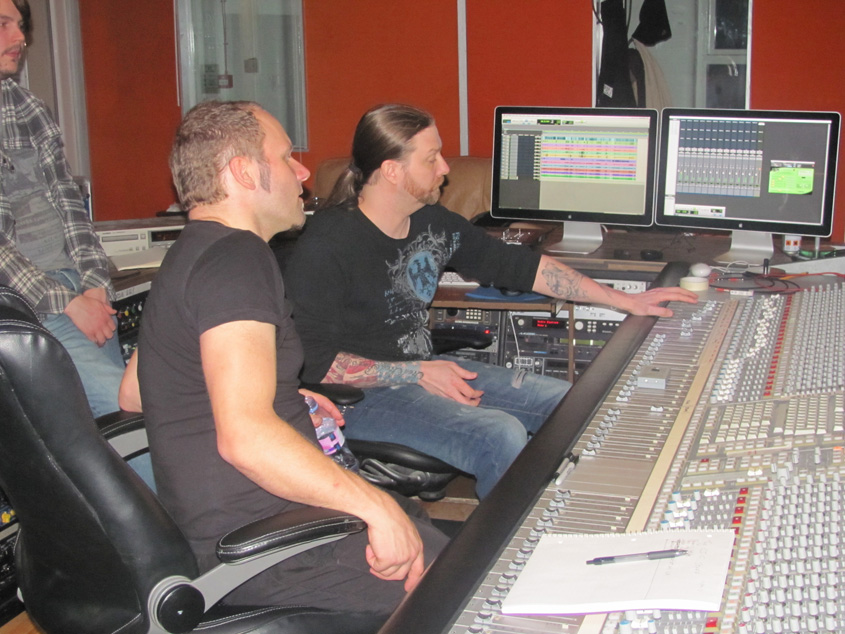 05/09/11 - Having been touring a lot over the past few months, this is a bit of a late update! What have I been up to? Well obviously playing with Killing Joke over Europe but also British comedy legend Bill Bailey where we headlined the Saturn stage at Sonisphere to 60,000 people - sandwiched between Opeth and Slipknot!! I also played with Pop will eat itself at the Beautiful days festival as part of their comeback (I drummed on the new album which is released in October) and also squeezed in a few festival appearances with Slaves to Gravity. At this precise moment I'm charting drums for a drum and bass remote session. laters!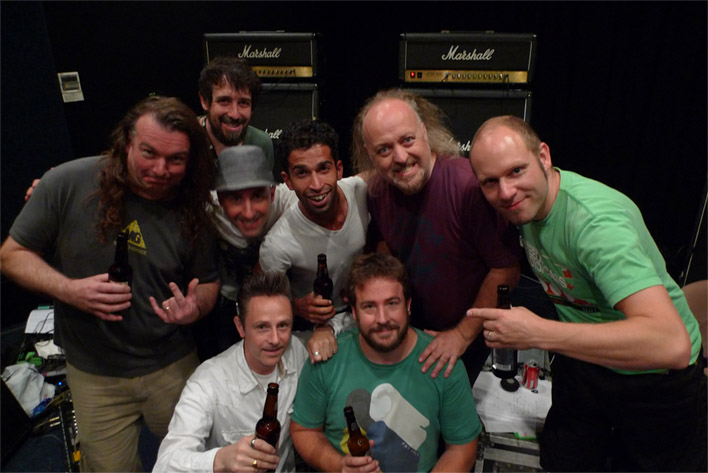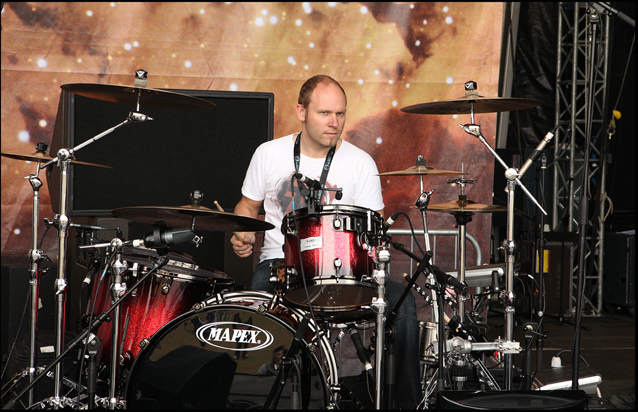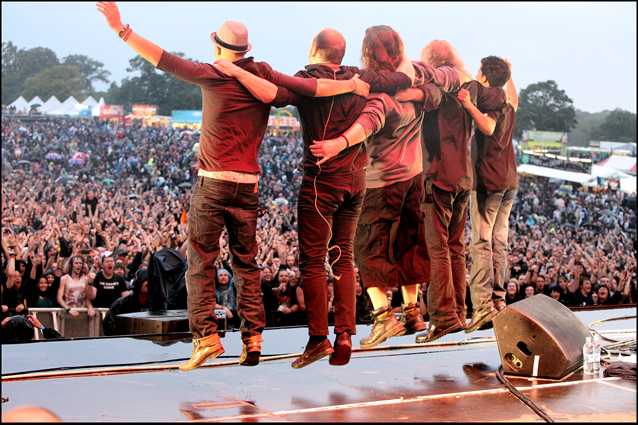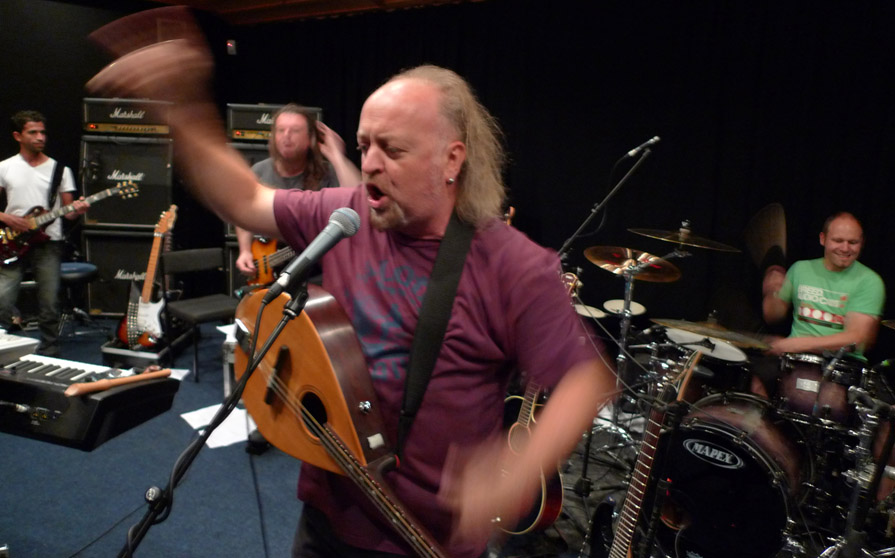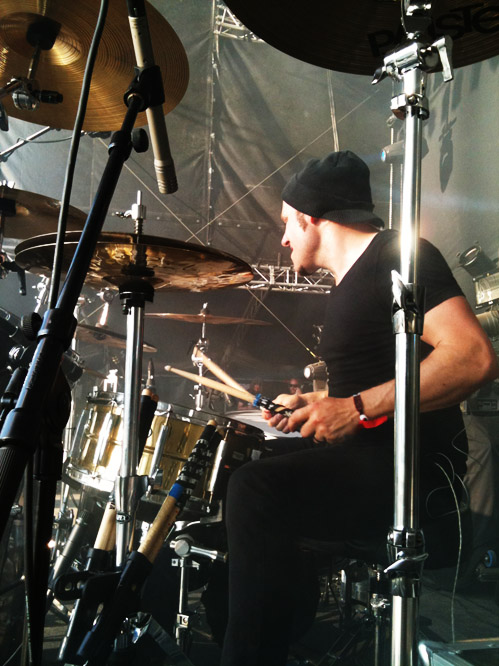 10/06/11 - A hectic month! I have been drumming for U.K. Punk/ industrial legends Killing Joke and will be playing at the following festvials over the summer:-

10th June Sonisphere Poland
12th June Wave Gotik Treffen Leipzig
2nd July Denmark Roskilde Festival
8th July UK Knebworth Sonisphere
22nd July Finland Helsinki Tuska Open Air
31st July Holland Utrecht Summer Darknes
6th August Holland Schollenpop

31/05/11 - This month I recorded drums for the official F1 2011 games for Xbox and PS3. Great fun doing this as a remote session - I was also accompanying the Prague Philharmonic orchestra! A great masterclass too was had up in Barnsley for the Richard Quinn school of drums to over 150 students?

19/04/11 - I have actually been recording some Swung, moody, Jazz this week - Brushes, hotrods and everything! Legendary producer Geoff Gurd (Dina Carroll fame) was directing everyone and I can honestly say I have never worked with a group of more competent musicians in my life! My old friend Dave Draper was engineering at FFG studios in Bredon. I will post some audio very soon!

23/03/11 - Just played an awesome drum clinic in Norwich for Anglican drum centre. Great guys and great evening!

11/03/11 - Have now finished recording drums for a
new album by Pop will eat itself. The drums were recorded as a remote session and former Nine Inch Nails drummer Chris Vrenna is producing the album in L.A.

16/02/11 - Slaves to Gravity have just finished shooting their new video for the track 'Silence now'. This will be released in April as single from their forthcoming album entitled 'Underwaterouterspace'. You can check the video out on the media player page.

21/12/10 - I have played a live Radio 1 Xmas party with Bullet for my Valentine No crowdsurfing unfortunately!

14/12/10 -I have just finished an arena tour with U.K. metallers - Bullet for my Valentine. Asked to step in at the last minute, I learnt their 17 song set in three days with no rehearsals with the first show at Birmingham NIA. The tour went on to play Glasgow S.E.C.C, Manchester M.E.N. Arena, Cardiff CIA and London Wembley Arena.